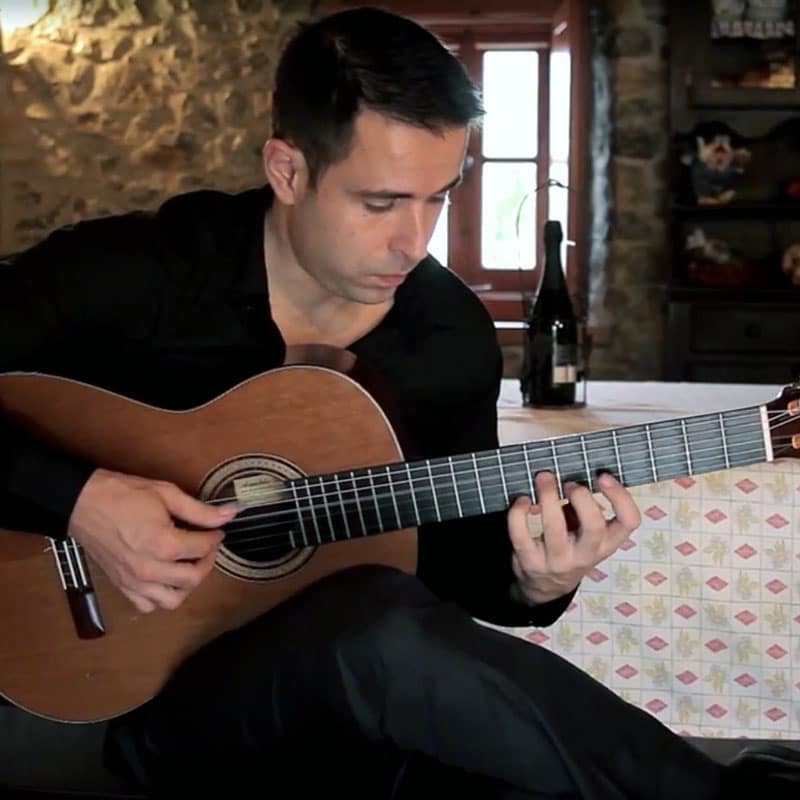 Ricardo Mata
I started my musical career in 1995 , having initially studied with Master José Duarte Costa at Duarte Costa School of Guitar . At his own invitation, I began teaching at the same school in 1996 where I took the first steps as a teacher.
Aware of the need for continuous training, I went through my academic career with teachers in different musical styles, that contributed to a wider knowledge and study of other musical languages ​​such as Jazz or Blues, which proved to be essential in my way of playing and teaching.
With classical guitar as the main reference, in 1999 I started the Classical Guitar at the Amateur Music Academy course under the guidance of Paulo Valente Pereira . Also in the same year, I recorded an Iberian erudite music album at the invitation of lyrical singer Miguel Vaz Serra in London. At the same time, I kept interested in other forms of learning, participating in masterclasses of improvement in Portugal and abroad.
In these, I had the opportunity to meet the Croatian guitarist Dejan Ivanovich , a crucial moment of learning and interpretive maturity, which led me to successfully complete the Classical Guitar course at the National Conservatory of Lisbon as a self-taught student.
Aware that I needed more goals, in 2002 , I started studying the Portuguese Guitar under the guidance of João Torre do Vale. The Portuguese guitar is a fascinating universe in which I discovered another instrument and other sonorities.
Since 2002 I study intensely with several masters, the Portuguese guitar, either in the style of Lisbon or in the style of Coimbra. Always linked to musical pedagogy, I'm always reinforcing my position as Professor of Classical and Portuguese Guitar.
In 2006 I started my Youtube Channel (Ferreiramata), in which I embark on a more popular but also more erudite repertoire and have proven to be a success, both in Portugal and abroad, with thousands of views and hundreds of subscribers.
In 2015 I launched my Youtube Professional Channel that is dedicated exclusively to the Instrumental Music of Classical and Portuguese Guitar.
Other Education:
– Ana Ferrão – Children's Musical Pedagogy
– Flamenco Guitar (Initiation) – Oscar Herrero and José Luis Postigo
My first 8 lessons of classical guitar with Ricardo were a Christmas gift from 2015. Without any knowledge of music, I liked the originality of the gift and decided to try but thinking that would be my experience. After all, the stimulating yet relaxed environment, and the sympathy, patience and professionalism of the teacher, have been more than enough incentives to give you continuity, and it has been going on for almost a year.
I have been a student since October 2015. (...) I feel that since the first class I have learned and evolved immensely. Teacher Ricardo has an extraordinary vocation to teach music, he adapts his teaching method to each individual case, according to our capacities, limitations, personality and musical tastes. (...) The most revolving part of the lesson is when he plays along with us!
Ricardo, with his vast and varied knowledge, manages to embrace very different styles, in varied classes, adapting to the pretensions of the student, in a relaxed but professional atmosphere. The fact that he can accompany the student in Portuguese guitar and viola is stimulating and a very important asset. With his long experience, its method and pedagogy of teaching, evolution appears naturally and effortlessly, motivating the student to new challenges.
As a student of Ricardo Mata I expanded and structured the knowledge I had of the guitar. Strict, demanding, but always in an informal register, Ricardo's classes are personalized, allowing me to explore different styles of music. I recommend all guitar lovers regardless of age.
Ricardo Mata knows exactly what he is talking about.
When you teach, you touch what you know, you know what to do.
He is a Master in classical guitar.